Chicken Malai Tikka Recipe, or murgh malai is a mouthwatering juicy grilled chicken recipe, with chicken pieces marinated in chilies, garlic, lemon, spices. and cream (malai in Hindi). A little different from regular grilled chicken tikka, this is a kind of chicken which can be served many ways –  as appetizer, snack, or main course with naan bread or rice.
Malai Chicken Tikka is known by many names, chicken malai kabab, murgh malai tikka or sometimes even referred as just Murgh Malai. This gave me real hard time in deciding the right title for the recipe. At the end, I thought the word 'malai' means cream, will make it self explanatory and 'tikka' is something everyone knows! So, Malai Chicken Tikka it is! 🙂
You know what? Even though known by many names, in simple words,  malai chicken tikka is griled chicken kabobs with unique combination of spices and cream with cheese. I must mention, cheese was not something always used in traditional malai tikka but it does take the flavor of cream to whole other level!  pure tase of malai in every bite! yumm!
This recipe is not so known outside India, I should say, Indian food lovers.
Now, that does not mean it is complex but bursting with flavor. So, I decided to present it you two ways – a new grilled chicken recipe to feature in Memorial Day Cookouta new way to weekday chicken dinner.
The best part is, you don't have to switch on grill on weekdays to cook malai tikka. It can be prepared in a heavy bottom pan on stove top. Or can even be cooked in oven. My kitchen gets supper hot in summers so I prefer stove top or outdoor grill… but in winters, this recipe is easy to pull together in oven.
.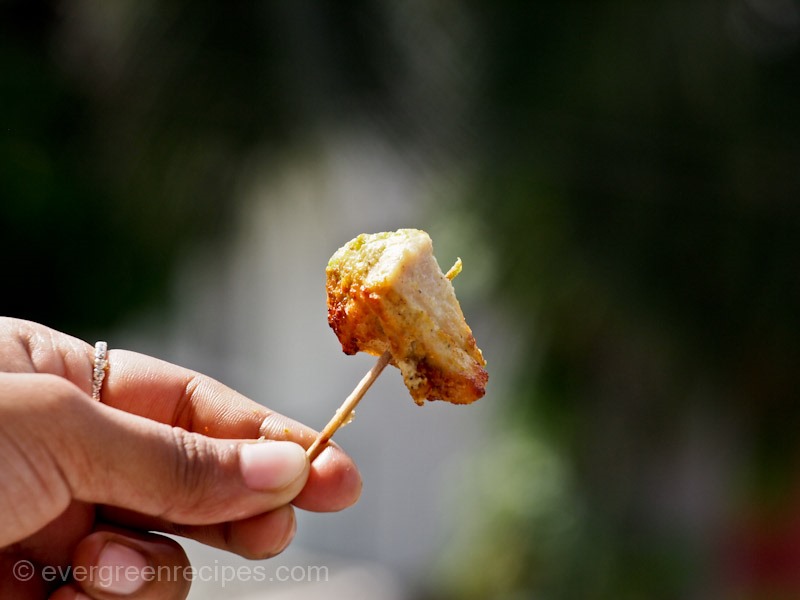 Preparation Time: 10 Minutes
Cooking Time: 35-40 Minutes
Serving: 3
| | |
| --- | --- |
| Ingredients | Quantity |
| Chicken, boneless | 400 gram |
| Hung curd | 1/2 cup |
| Cream | 1/4 cup |
| Cumin powder | 1/2 teaspoon |
| Ginger-garlic paste | 1 teaspoon |
| pepper powder | 1/2 teaspoon |
| Green chilly | 2-3 |
| Mace | 1/2 blade |
| Lemon juice | 1 teaspoon |
| Butter | 1 tbsp |
| Vegetable oil | 1 tbsp |
| Cardamom green | 3 |
| Salt | to taste |
Method:
1. Combine all the ingredients in a grinder except chicken and grind it to make a fine and smooth paste.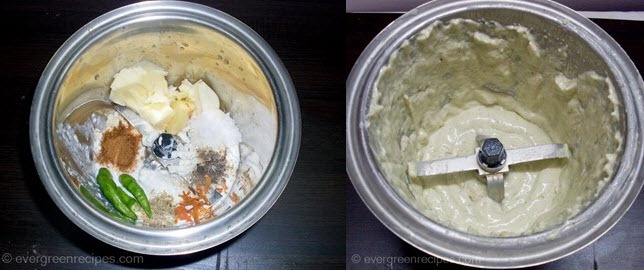 2. Cut the chicken into 1 inch cubes and add ground spices. Mix it well, keep it in a refrigerator for 4-5 hours/ overnight to marinating.

3.Take out the chicken from the fridge and insert  a toothpick into the center of the each cube.  Grill it on high temperature (of your oven) for 35-40 minutes.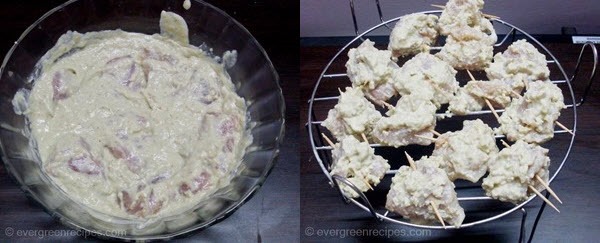 4. Turn it after 15-20 minutes and grill from the other sides for 10-15 minutes. Serve hot with your favorite chutney.

5. Enjoy!!
See Also The Related Topics about Chicken Malai Tikka Recipe: